Rabbit Control
Wabbit Vapouriser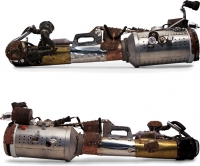 Technical details:
Built 1924
3 million watt capacity
Concept – to blind the wee buggers and vapourise them with intense light?
Only every fired once, needed 3 years to charge to full capacity and actually vapourised the shooter instead.
Wabbit & Vapouriser
Wabbit Flamethrower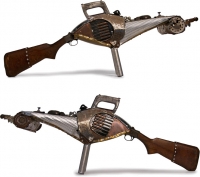 Technical details and concept:
Built 1928
A multi head flamethrower, with capacity to knock over 50 Rabbits in one go.
Limited success – it has since been converted into a glorified cigarette lighter.
Wabbit & Flamethrower